Plant based milk alternatives
There has been an explosion of plant-based "milks" available in the UK in the last few years and there is now a huge variety of these plant-based "milks" available in supermarkets and health food shops around the country. However, there are a few things that I feel are important to consider before choosing one of these drinks for young children.
There are many reasons why families may wish to use plant-based drinks instead of cow's milk…your child may have a cow's milk allergy, your family may be vegan or your family may simply want to include more plant-derived foods in their diets from a sustainability and 'better for the planet' point of view.
It is worth remembering that these drinks (I don't like to call them milks) are low in calories and protein (except soya and pea based milks) and therefore they may not be appropriate as a MAIN drink for infants and children up to 18 months of age, depending on their growth and the variety of other foods eaten, as well as the number of food allergies they have (if relevant).
Plant-based fortified drinks can be used in cooking or over cereals for infants from 6 months of age but should NOT be used as a main drink until the child is around 18 months of age and eating a diet sufficient in calories, protein, fats, vitamins and minerals. I would suggest an assessment by a registered paediatric dietitian. It is also important to point out that organic varieties are not suitable for children, as they are not fortified with vitamins and minerals.
All infants (under 12 months) who cannot tolerate cow's milk protein (or soya protein) should either be breast-fed or be on a suitable infant formula such as an extensively hydrolysed or amino acid based formula. Speak with a paediatric dietitian about this. It is also worth remembering that the more food allergies a child has, the more likely they are to have a nutrient deficiency. For example, if your child is allergic to cow's milk protein ONLY and they can tolerate soya milk (fortified), they are a good eater and they are growing well, then they are unlikely to have any nutrient deficiencies. However, if your child has cow's milk protein allergy as well as being allergic to soya, eggs, peanuts and all tree nuts, it may be difficult for them to get enough calories, protein and vitamins/minerals from their food, therefore a hypoallergenic formula or breastfeeding may be indicated beyond 12 months of age.
(You can ask your GP to refer you to an NHS dietitian or you can search for a freelance dietitian here: https://freelancedietitians.org)
My top tips for choosing a plant-based drink for children:
If your child is under 18 months of age OR you are worried about your toddler's growth and the variety of foods that they eat, speak with a paediatric dietitian for help and advice BEFORE choosing a plant-based drink
Always look for plant-based drinks that are fortified with calcium, iodine and vitamins(organic varieties are not fortified)
If your child is under 5 years of age, do not use rice milk, due to its arsenic content, rather choose another plant-based drink
Consider the nutritional content of the rest of your child's diet…calories, protein and fats can be compensated for in other foods. Such as nut butters, avocado, olives, olive/rapeseed oil, seeds, hummus as well as oily fish and eggs (if not vegetarian or vegan).
MY TOP 3 PLANT-BASED DRINKS
M&S soya drink
Mighty Society pea drink
Oatly Barista*
My 'top 3' above are based on the following criteria: protein, calcium, iodine, vitamin D and B vitamins
 *Oatly Barista is lower in  protein than the other 2 plant based drinks, so make sure your little one is eating plenty of other sources of protein, such as beans, lentils, nut butters, tofu, soya beans, hummus. I added Oatly Barista to my 'top 3' due to it's calcium, iodine and vitamin profile. 
What nutrition does cow's milk provide?
We all know that cow's milk provides a good source of complete protein, which means it contains all the essential amino acids (building blocks of protein) important for growth and repair of our cells. I
am sure we all also know that milk is a great source of calcium (typically 120mg/100ml) but it is also an important source some other vitamins and minerals, such as riboflavin (vitamin B2), vitamin B12 and iodine.
How much calcium do children need each day?
0-12 months                          525mg
1-3 years                                350mg
4-6 years                                450mg
7-10 years                             550mg
11-18 years
Girls                                       800mg
Boys                                       1000mg
Breastfeeding mums          1250mg
Why is Iodine important?
Iodine is an essential micronutrient but not one you often hear about. It is only needed in tiny quantities (50 – 130 micrograms per day, depending on the age of the child and 200 micrograms per day for pregnant and breastfeeding mums), but it has an essential role to play in helping our bodies to make thyroid hormones. Iodine is also essential in pregnant women to support baby's brain and neurological development. Recent research has shown that there has been a re-emergence of iodine deficiency in the UK and this is particularly important in pregnant women, where a deficiency of iodine could influence the neurodevelopment of their children (Ann Clin Biochem. 2015 Nov;52(Pt 6):705-8)
Food sources of iodine:
The best sources of iodine are found in dairy products, eggs and in sea fish (particularly white fish) and shellfish. For this reason, dairy-free diets can be low in iodine and vegan diets can be very low in iodine. Check with your healthcare professional, as some children may need to take an iodine supplement, but be careful, as very high intakes of iodine can be harmful.
To read more about iodine: Iodine
What about vitamin B12?
Vitamin B12 is very important for keeping our nervous system healthy. Vitamin B12 is only found in animal food sources and for this reason vegans are at high risk of deficiency and should consider taking a vitamin B12 supplement. Food sources include dairy products, meat, fish and eggs. Soy based meat substitutes are often fortified with vitamin B12 but vitamin B12 does not occur naturally in soya.
You can read further information about a vegan-friendly vitamin B12 supplement here: Vegan vitamin B12 supplement
Thinking about the energy content of plant-based drinks…
In order to illustrate the relatively low energy content of these drinks, I have shown below the amount of each plant-based drink providing the same number of energy/calories as 50ml cow's milk:
100ml soya milk (unsweetened)
50ml soya milk (for 1-3 year olds, sweetened)
75ml oat drink
75ml rice drink** (sweetened) – see note below
115ml hazelnut drink (sweetened)
120ml coconut drink
140ml hemp drink
250ml almond drink (unsweetened)
**PLEASE NOTE: Rice "milk" is not suitable for children under 5 years of age due to the arsenic content
So what is in these plant-based drinks?
The tables below illustrate the nutritional content of different plant-based drinks available in the UK. I have only included the brands fortified with calcium and vitamins in the tables but have given the names of brands to illustrate the variety available.
(I have tried to include as many brands as I could find but please let me know if there are any that I've not included!)
Soya milks
Alpro, supermarket own brands, Provamel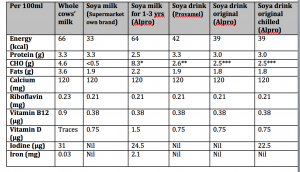 * Contains added sugar and starch
** Contains apple extract
*** Contains added sugar – Alpro unsweetened soya drink is also available, with a nutritional profile similar to the supermarket own brand shown above.
Oat drinks
Oatly, Alpro, Provitamil, Provamel, Rude Health, Oat Dream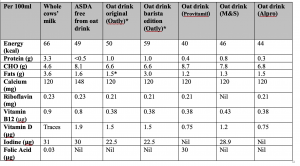 * There is also a whole / semi-skimmed / skinny version of Oatly oat drink containing 2.8g / 1.5g / 0.5g fat respectively from rapeseed oil.
Coconut drinks
Koko, Alpro, Rude Health, Provamel, Rebel Kitchen (Rebel Mylks), Coconut Dream, Califia Farms (almond and coconut drink)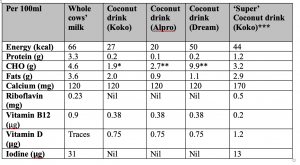 * contains added sugar from grape juice concentrate
** no added sugar, rice has been added to increase the CHO content
***Koko super also contains Vitamin C, folic acid, zinc, iron, magnesium, phosphorus, vitamin A and vitamin E which I have not added to the table
Nut drinks
Alpro, Provamel, Rude Health, Pip & Nut, Califia Farms, Plenish
There is a huge variety of nut drinks available in supermarkets and health food shops.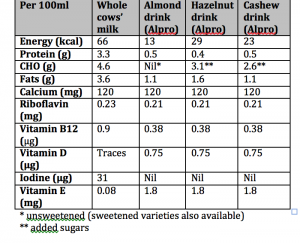 Rice drinks – **NOT suitable for children under 5 years of age**
Rice Dream, Provamel, Alpro,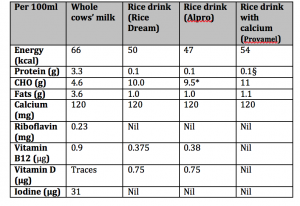 *added starch (maltodextrin)
Hemp drinks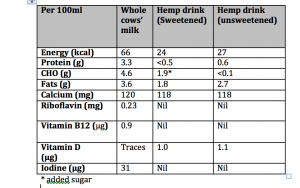 Pea based drinks (The Mighty Society) https://mightypea.co.uk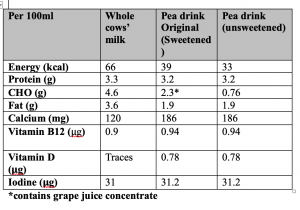 A few comments….
At the moment, pea and soya milks are the only other "milks" that have a comparable amount of protein to cow's milk. The mighty Society pea based milk is also fortified with iodine, as well as calcium and vitamins D and B12.
Cow's milk does not naturally contain vitamin D (only traces) but the plant-based milks are fortified with vitamin D as it is important for calcium absorption and intakes can be low on dairy-free or vegan diets(remember all children in the UK under the age of 5 are recommended to take a vitamin D supplement of 10 micrograms/day) You can read more about vitamin D here: Vitamin supplements in children
Other good non-dairy sources of calcium, besides fortified plant-based drinks, include nut butters, hummus, tahini paste, green leafy vegetables (particularly kale and okra), beans and pulses, dried apricots, dried figs, fortified breakfast cereals such as Ready Brek and tinned oily fish with soft bones (if not vegetarian).
Nut-based drinks contain very few actual nuts….almond milk typically contains only 2% almonds!
Remember, organic varieties are not fortified with vitamins and minerals
I have also co-written a blog post on plant based dairy alternatives with Charlotte Stirling-Reed from SR-Nutrition and you can read it here.
I hope you have found this blog post useful and interesting. Please let me know if you have any questions or comments.
Paula x
I hope you have found this blog post useful and interesting. Please let me know if you have any questions or comments.
Paula x