Pleeeaaasse…..Can I have an ice cream Mum?
With this gorgeous summer weather we are having in the UK, also known as a heat wave (!), ice cream is something my girls are whining asking for EVERY day! As a dietitian, I feel uneasy about giving my children ice creams or ice-lollies every day but with this new gadget in my kitchen, I can make  ice cream for them every day and not feel guilty about it!
This has to be the healthiest ice cream I have ever come across as it is made from frozen fruit only and nothing else, but still has a lovely, creamy texture.
So what is this gadget?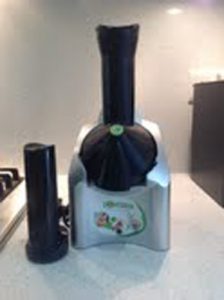 The gadget is called 'Yonanas' and all you do is pop some fruit in the freezer, such as bananas (peeled), strawberries, blueberries, blackberries, mango, peaches, melon, etc. and then place the frozen fruit in the "chute" of the machine and it does the rest…see the pics below for how it turns out!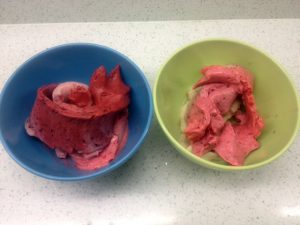 The pictures above show a banana and mixed berry ice cream and a banana with mango and peaches. So they are suitable for dairy and soya free diets and super healthy for all children as they contain frozen fruit only and nothing else!
I also made some into "real" ice creams on a cone today which went down a treat…
My other job…
My other job, other than writing this blog, is the Dietitian for a national charity called the NSPKU, which stands for the National Society for Phenylketonuria (PKU for short). PKU is a genetic condition, screened for just after birth (in the UK) and is treated with a special low protein diet. So when I came across the Yonanas machine, I was not only intrigued for my own children, but also for children and adults with PKU. As it is "ice cream" made from fruit only, people with PKU will be able to enjoy a 'Yoananas ice cream' too as they are low in protein….fantastic news!
In conclusion
I think this is the cleverest kitchen gadget I have seen for a long time and it is so simple. So if you would like to make fresh and healthy ice cream every day, why not try it out for yourself?
DISCLAIMER:
I have not been paid for this post and what I have written is purely my own opinion of this gadget. I bought the Yonanas machine myself and was not given one for free in exchange for a favourable review. I will always be open and honest about foods or gadgets that I have been asked to try out and write a review on.
I will be away in France for 2 weeks so will be taking a break from my blog…keep the feedback and suggestions coming!
Paula x